Little Dot
Little Dot
Born 24/11/2010
On the 16/01/2011 at 8.5 weeks old, Dot weighed 136g, less than most new born kittens.
Dot was born a tiny kitten, she always appeared to be feeding, however I used to give her 2 milk feeds a day to help her compete with the rest of the litter. When Dot started on solids I continued to feed her twice a day with Royal Canin Convalescence Support, this comes in powder form 50g sachet to which you add water. The mix will only keep for 24 hours in the fridge, so I fill small medicine pots up with the mixture and freeze them. Despite always appearing to eat and the extra feeds I gave her, Dot never grew. I returned home one morning following a night shift to find Dot colapsed on the floor, barely able to raise her head. I made arrangements to rush her down to my local vet and have her euthanised. Just as I was about to leave the house, I changed my mind, I was going to give Dot and myself another chance. We spent that morning in front of the fire, every 15 minutes or so I would give Dot a small amount of the liquid feed (1ml) or a small amount of sugared water. Dot lay there motionless for the 1st hour or 2, there was no strength left in that tiny little body. Over the next couple of hours I watched as Dot slowly started to recover and attempt to pull herself up. Following that I decided to keep Dot under constant surveilance, this was the only way little Dot's life would hopefully be saved. If I was busy in the kitchen, Dot would be in the kitchen under a heat lamp, if I was in the living room, Dot would also be in the living room in front of the fire. Over the following weeks I hardly ever managed to get to bed before 2am, I would then be up by 6am to syringe feed Dot, my goal was to feed Dot at least 5-8 ml of syringe feed 4-5 times a day. On the nights I had to work, my husband would stay up till midnight to give Dot a feed then feed her before he left for work in the morning. Dot was not a pretty site to wake up to in the morning, my husband would often telephone me just before he was about to leave for work to complain how bad it had been for him, how he did'nt have time for this, but he never let Dot down, he always made sure she was warm, fed and comfortable before he left for work. Dot spent Christmas stinking us out, she was always in a mess, needing 2-3 showers daily if not more. Despite this she was constipated, her little tummy was swollen, she strained to go to the toilet. We started with a one off enema then a twice daily dose of 0.5 mls of lactulose. This appeared to do the trick, her appetite improved, the motions were still loose (if she went), but without the lactulose she would never go at all, this was not diarrhoea.
*24/01/11 at 9 weeks 282g
*25/01/11 322g
*26/01/11, we visit the Vet, Dot receives an injection and some antibiotics just in case she comes down with an infection.
*27/01/11 324g
*28/01/11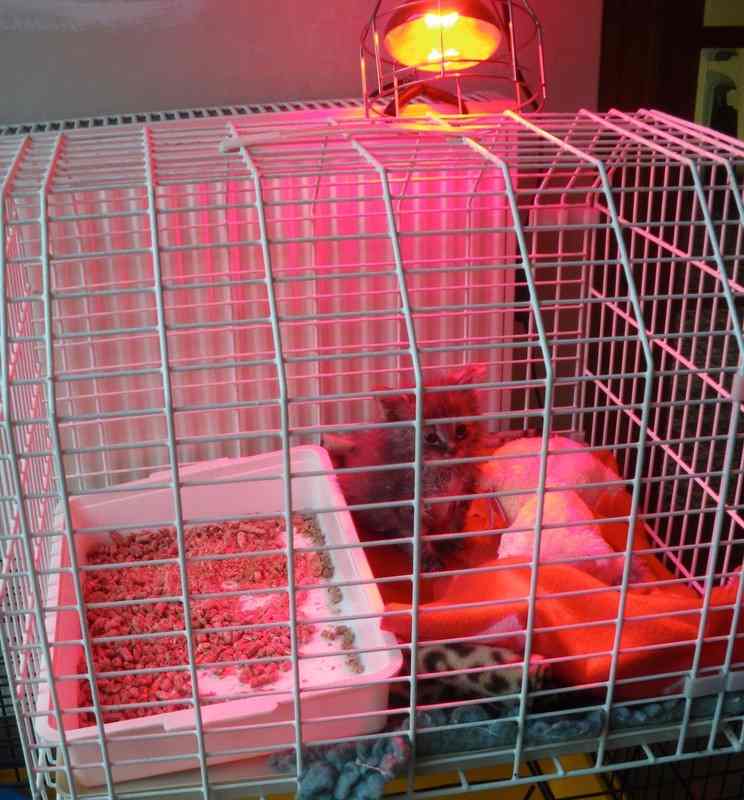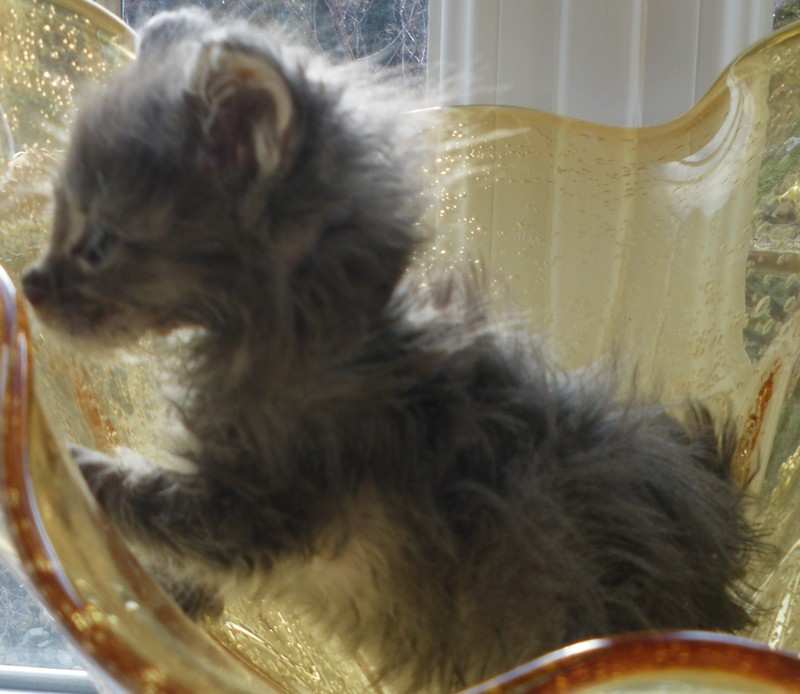 *29/01/11
9.5 weeks 339g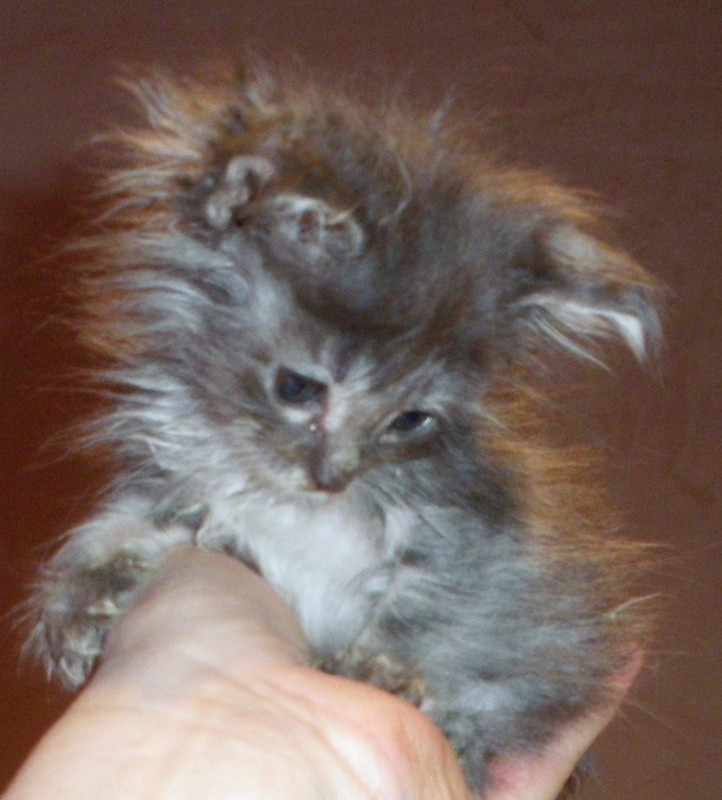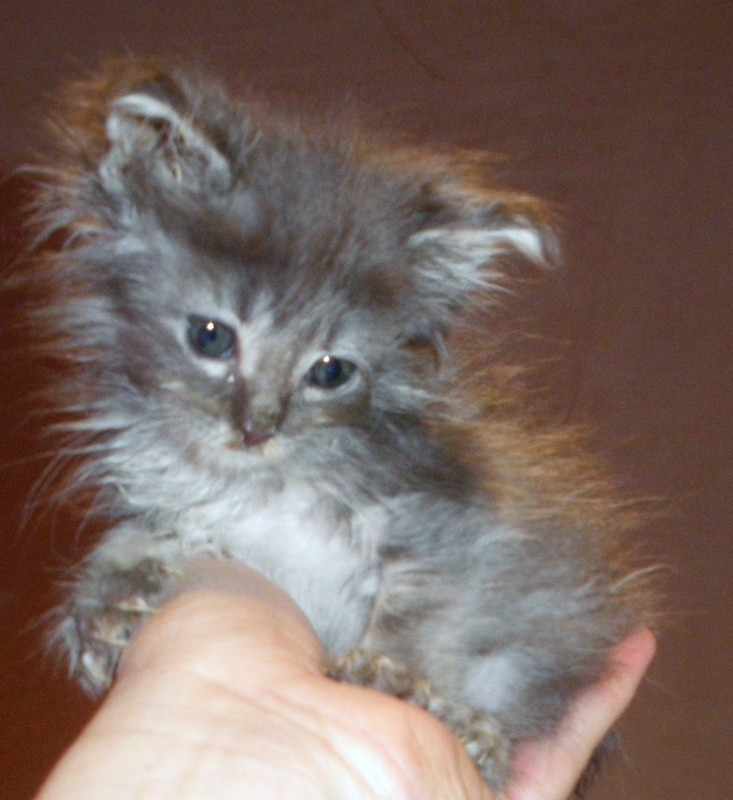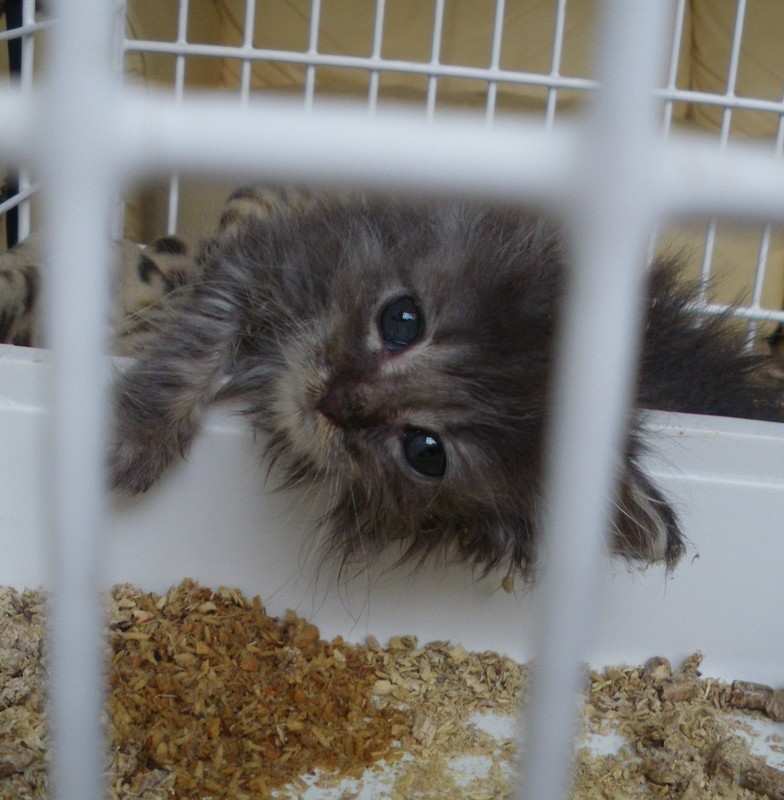 *Sunday 13/02/11
After a busy weekend running around playing, we are not having a good day today. Dot shows little if no interest in food, tummy is quite swollen, it's a struggle encouraging Dot to take her syringe feed. Have taken the decision to give Dot an enema (Micralax micro enema), Dot received one of these a few weeks earlier with good results. Dot receives the enema in the bath, I am standing over Dot with a heat lamp to keep her warm waiting for a result. Fifteen to thirty minutes later we have a result followed by a lovely warm shower. Throughout the day Dot receives small amounts of her syring feed every couple of hours, I have also decided to increase Dot's daily lactulose to 1ml twice a day. By the evening Dot is feeling much better, I leave her with a small amount of tinned kitten Whiskas to eat throughout the night.
Dot's fine in the morning, she's asking for her breakfast.
*16/02/11
12 weeks 394g
As Dot gains strength, her little personality is starting to show, she is most playful following her shower's, she really loves to be clean.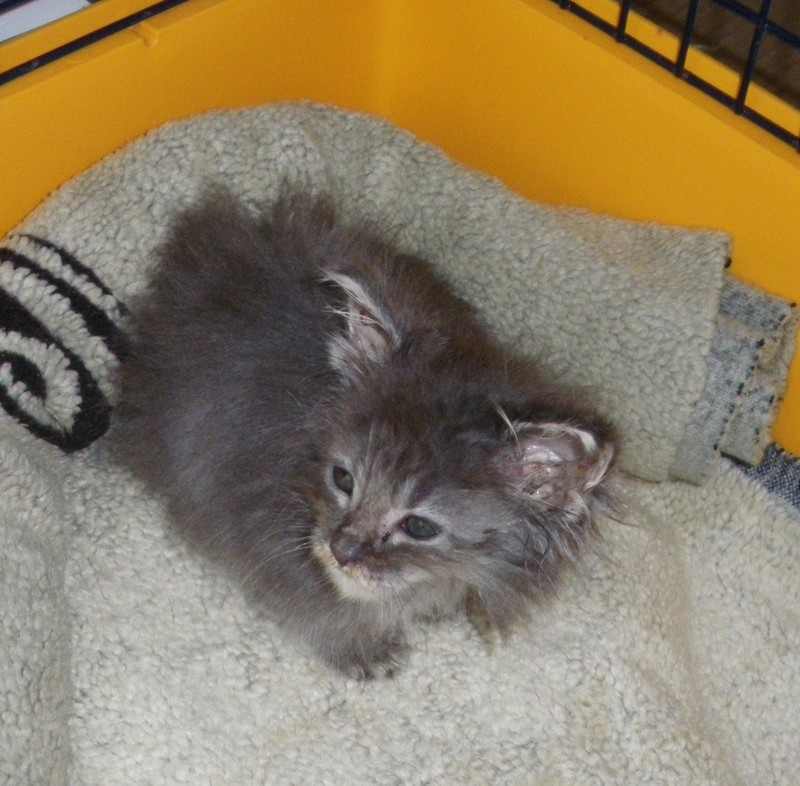 *17/02/11
Dot has only supervised playtime with her litter mates, she attempts to give as good as she gets.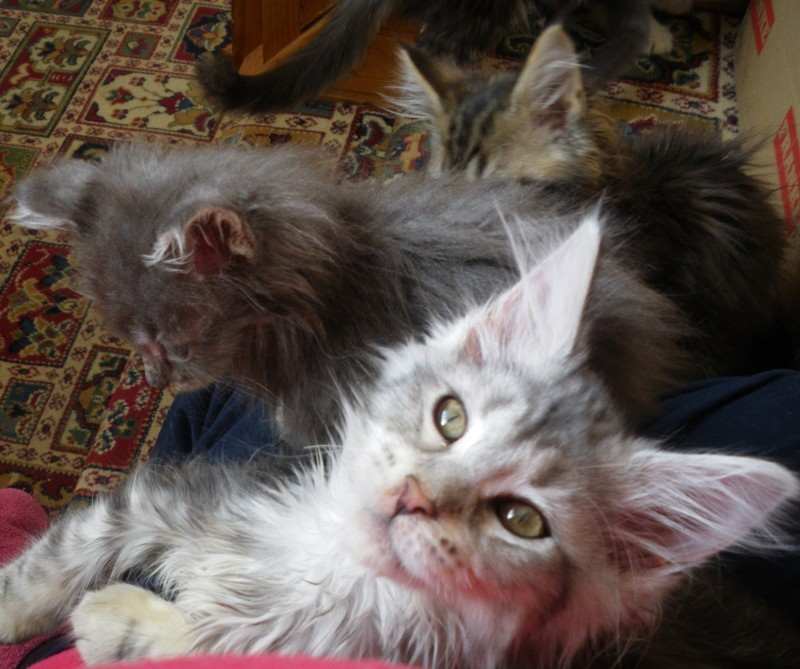 *21/02/11
12.7 weeks 428g
During her shower today, Dot washes her front paws as I wash her backend, she appears to be really enjoying the warmth of the shower. It's about time she helped out, it's not as if showering is new to her, she has one every 2-3 days, a big improvement to when she used to shower 2-3 times a day.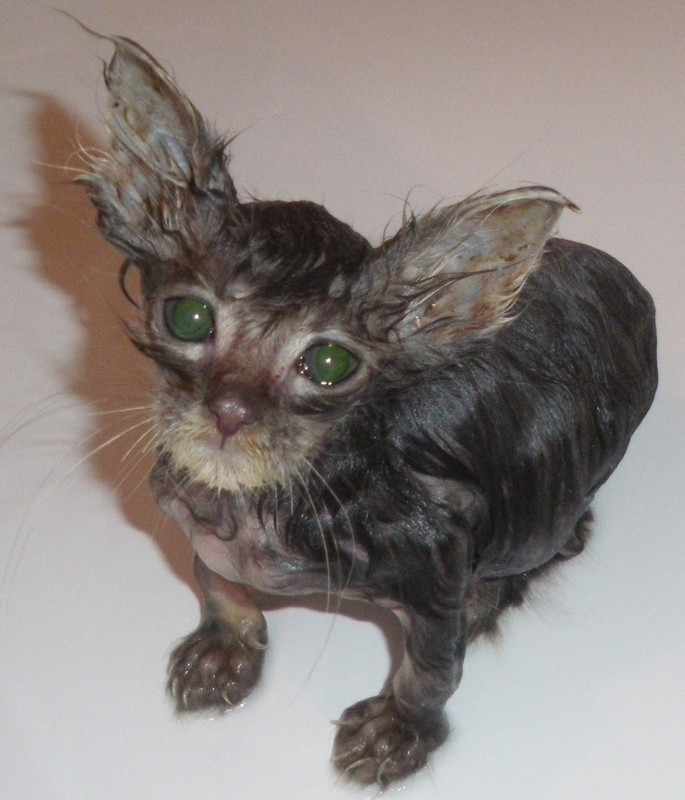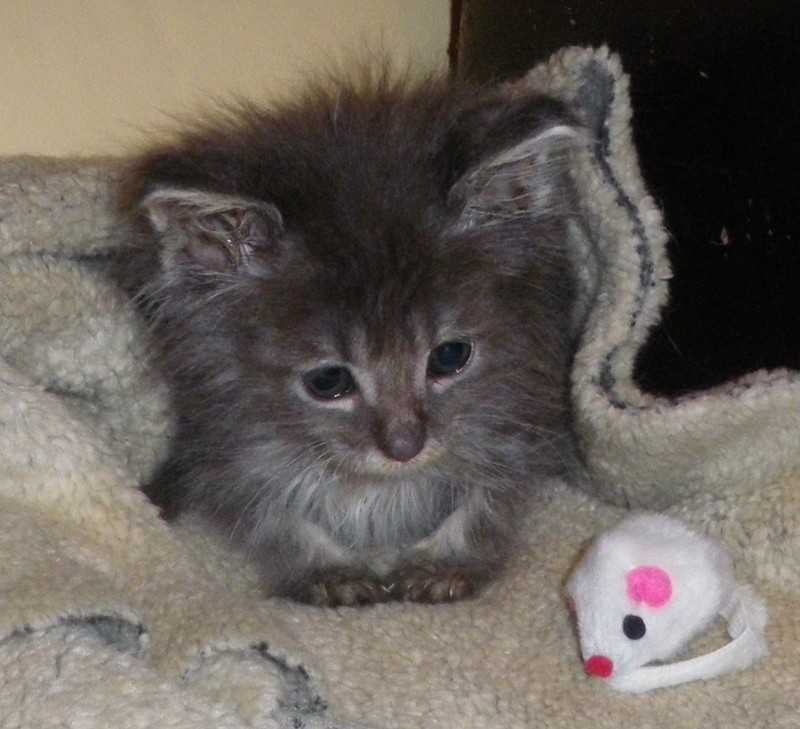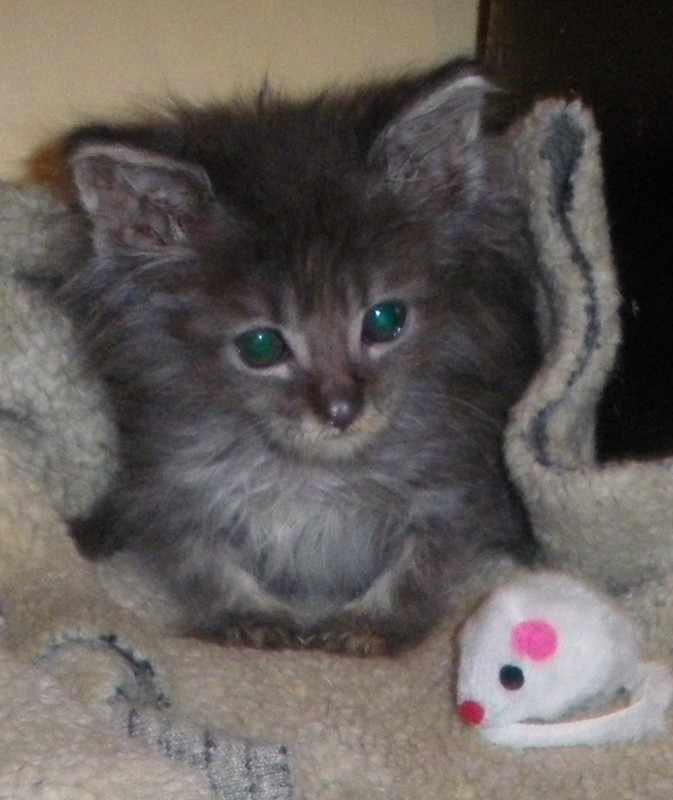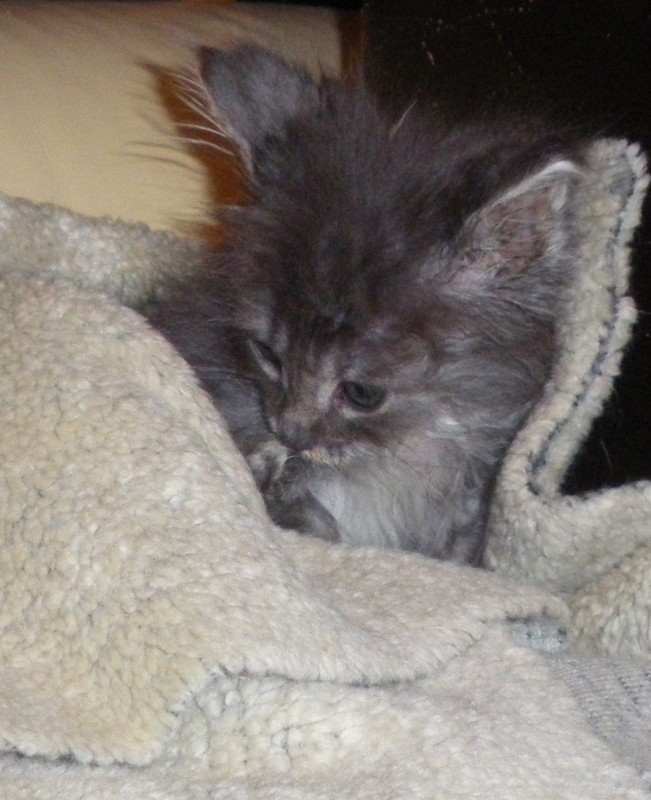 So far so good, we have gone from strength to strength following our little set back on Sunday 13/02/11, the increase of lactulose appears to be doing the trick.
*22/01/11
A busy day playing chase with Scooby (one of my 3 dogs), we did however need a shower on the backend. Almost forgot, Dot had a small formed pooh today and yesterday.
*23/02/11
13 weeks 456g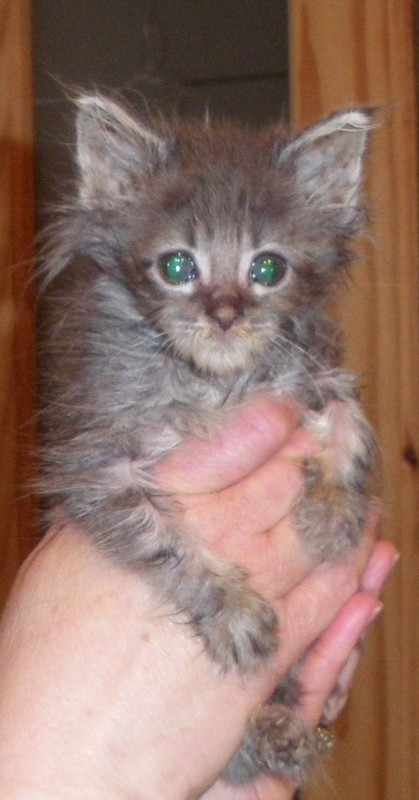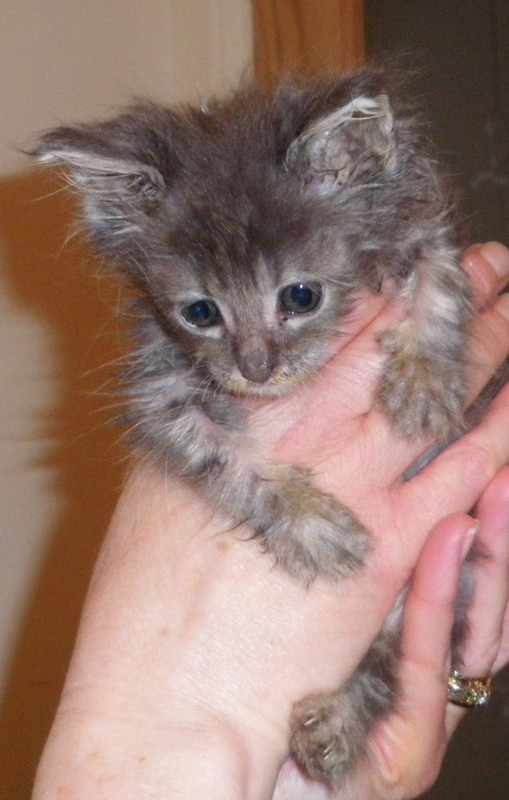 Getting a little handfull now, a busy evening racing around the kitchen as I prepare tea. Dot is very clever, she sits by her cage to let me know she wants to go back in. I don't let her jump in and out on her own in case she falls. Dot stays out playing a lot longer, she does not feel the cold as quickly as she used to.
*03/03/11
14 weeks 528g
Dot enjoyed the sunshine today coming through our front room window. She still looks and gets into a mess, however she is happy and playful. At the moment she is enjoying Whiskas Oh so fishy, we stopped the syringe feeding over a week ago, things appear to be going well. Dot still has her twice daily dose of lactulose.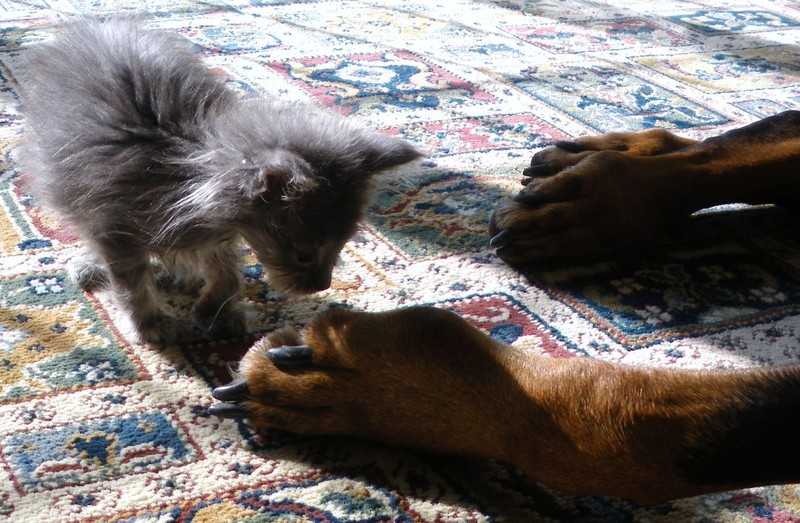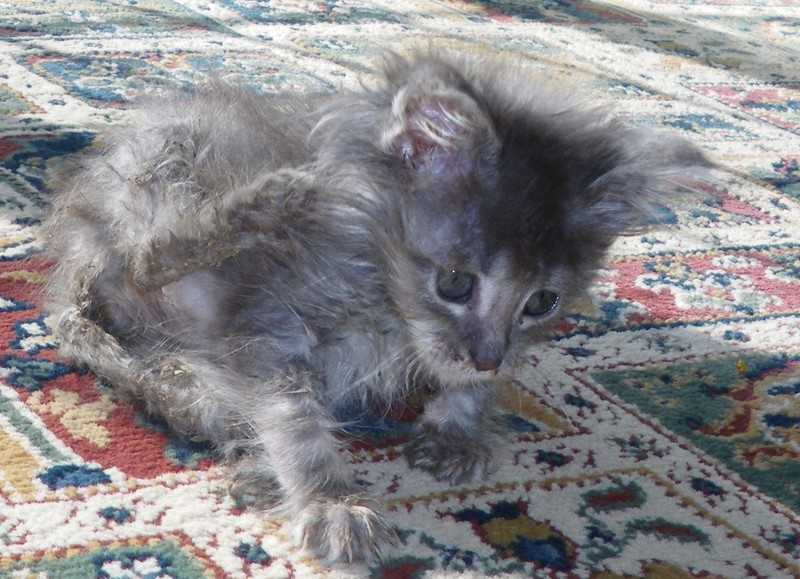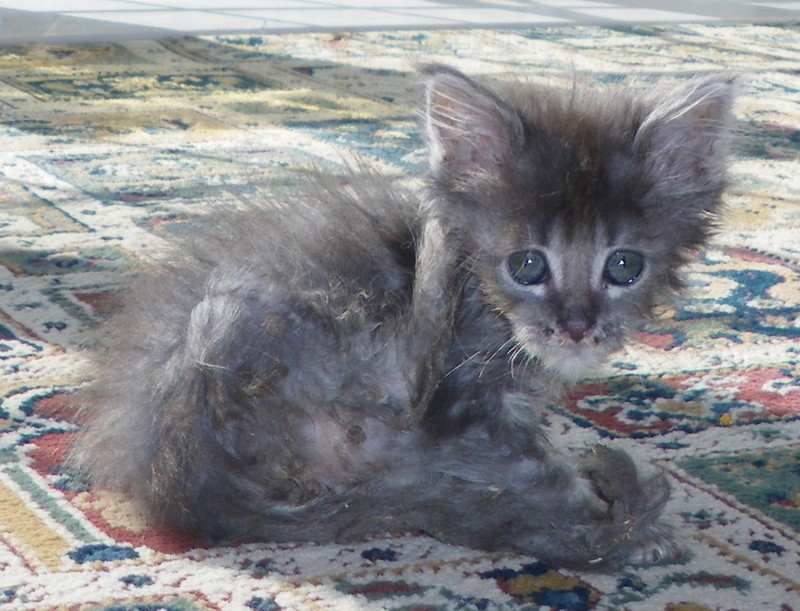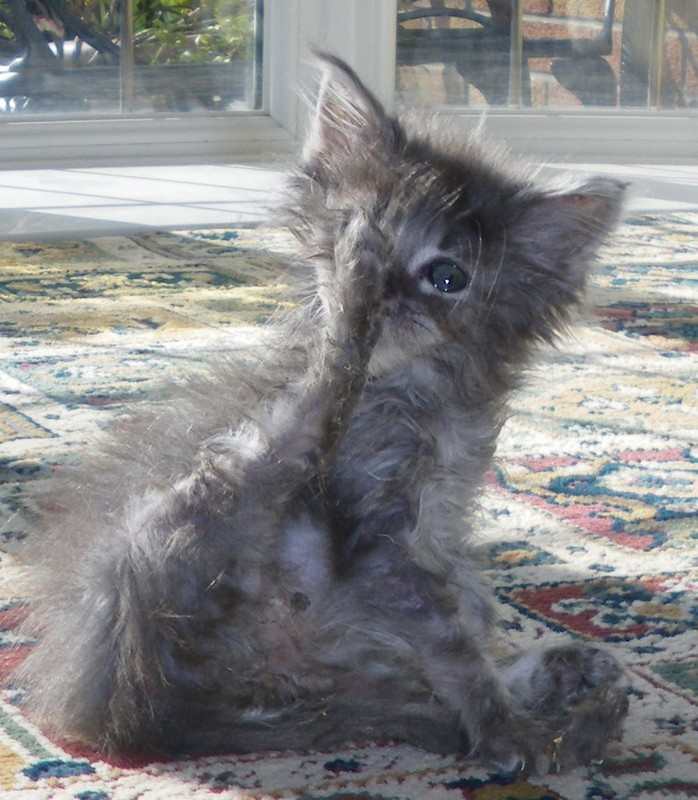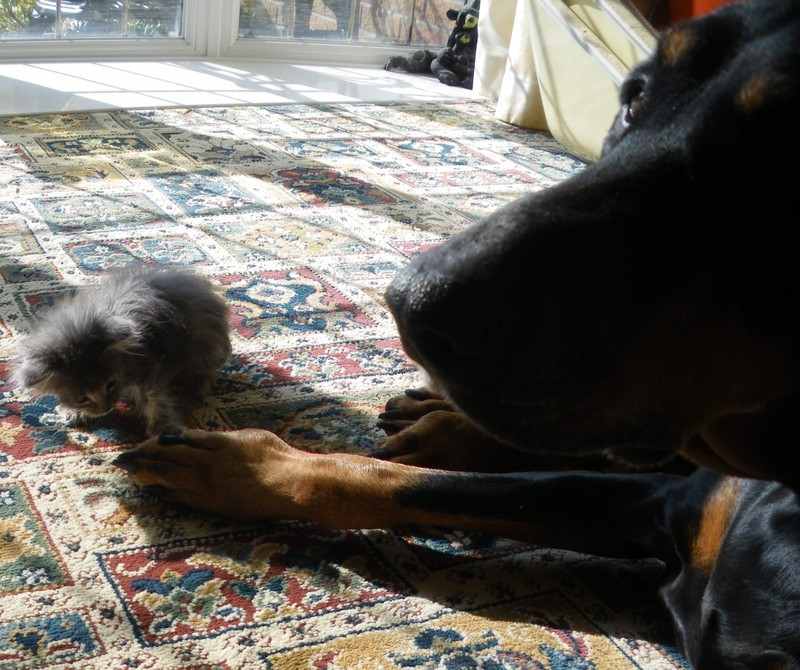 *07/03/11
Just under 15 weeks, 600g
Dot watches the world go by from under the kitchen sink. The cupboard is doorless at the moment and has become a favourite little spot for Dot as she watches the hover go round.
Everyone that meets Dot can't believe how tiny she is, even more so, she's a right little scrapper, she gives her litter mates as good as she gets.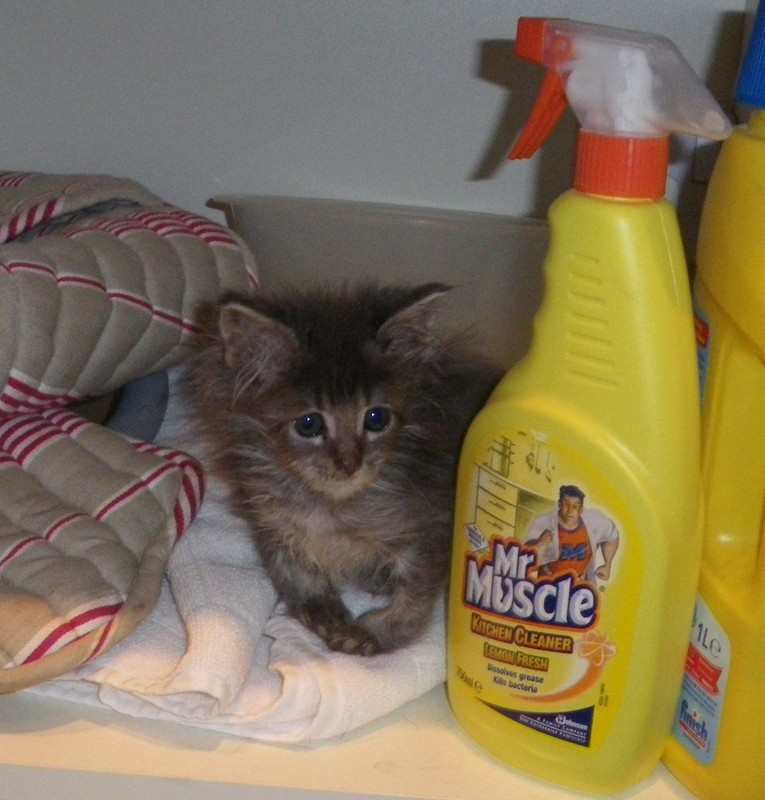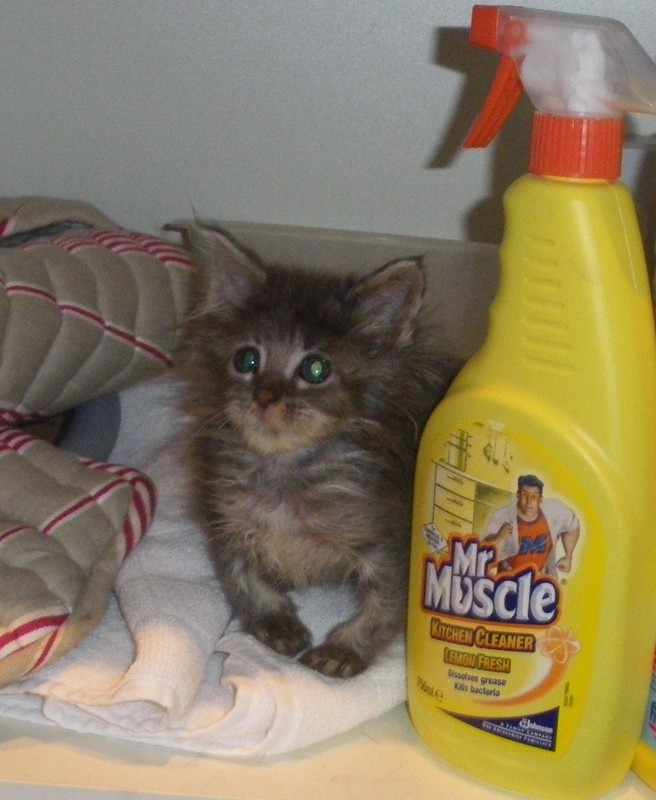 *15/03/11
16 weeks 776g
Dot, the dogs and I are confined to the living room today, the kitchen floor is being skimmed? ready for tiling. Dot does not mind, the dogs don't mind, but for me it's hell being trapped to one room with 3 boistrous dogs. Today I decided to reduce Dot's lactulose back down to 0.5ml twice a day, she's eating really well, passing acceptable motions, active and playful. She loves to cuddle down on your lap during the evenings, well anytime really, just I don't have the time to cuddle and play with her throughout the day.
I am hoping someone will want to offer this little girl a safe indoor home in the next couple of months. Somewhere where she will be the centre of attention, lots of love and cuddles, somewhere where she will not be at risk of harm, no boistrous kittens to take advantage of her size.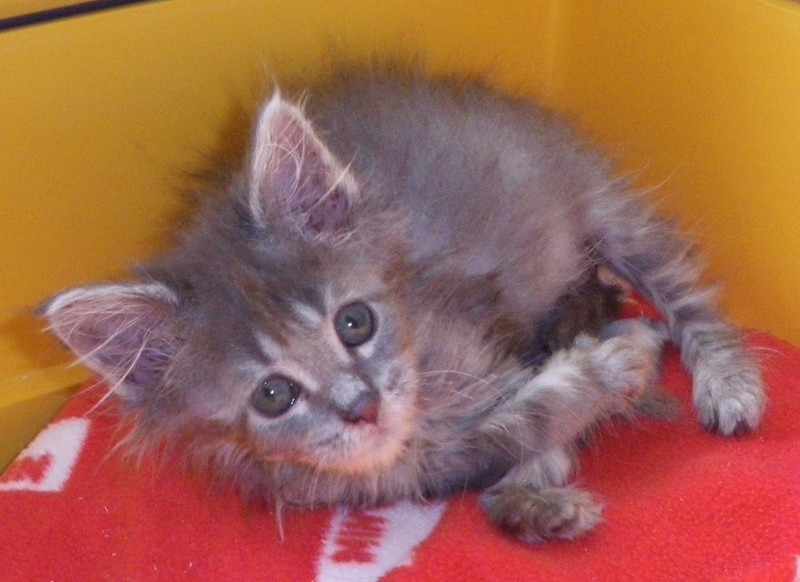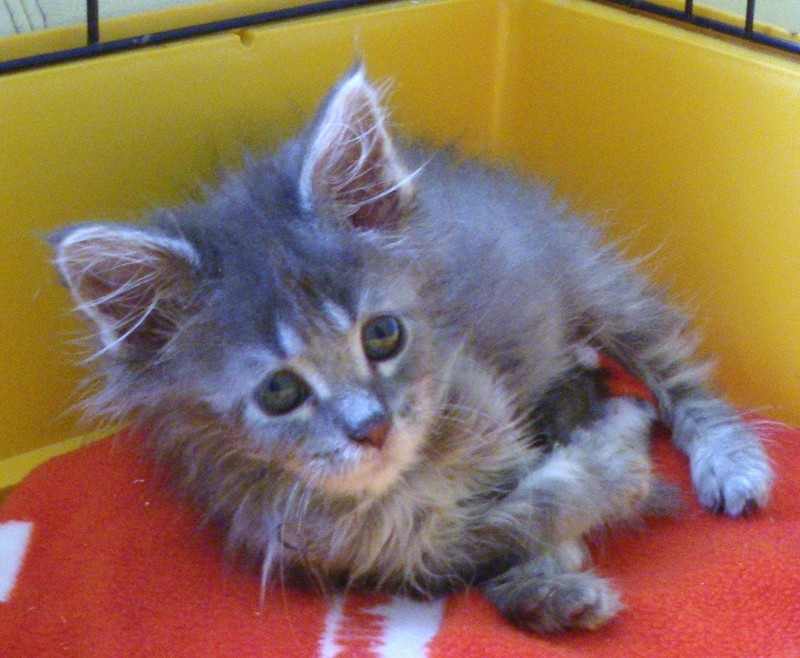 Mali (cavalier), Brutus (doberman), Scooby (wire haired german pointer x springer spaniel)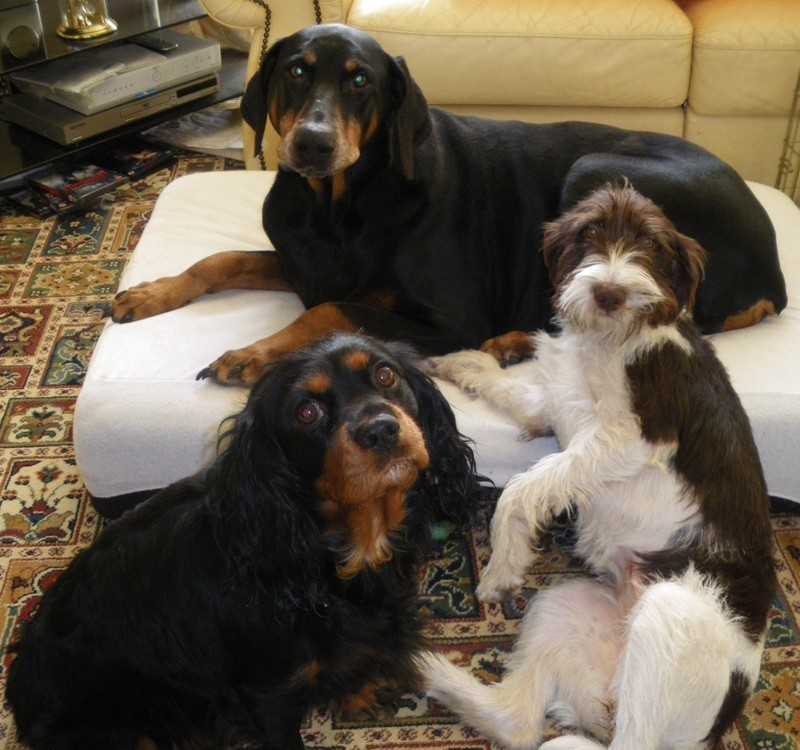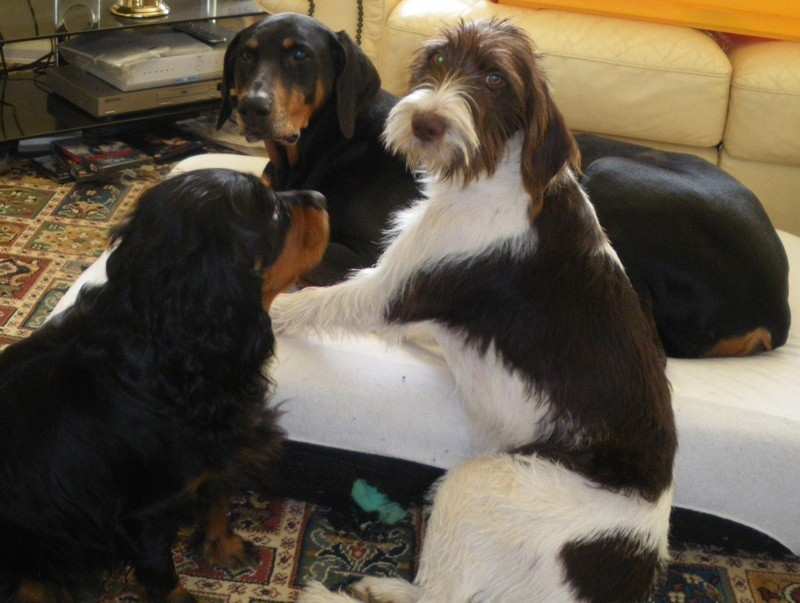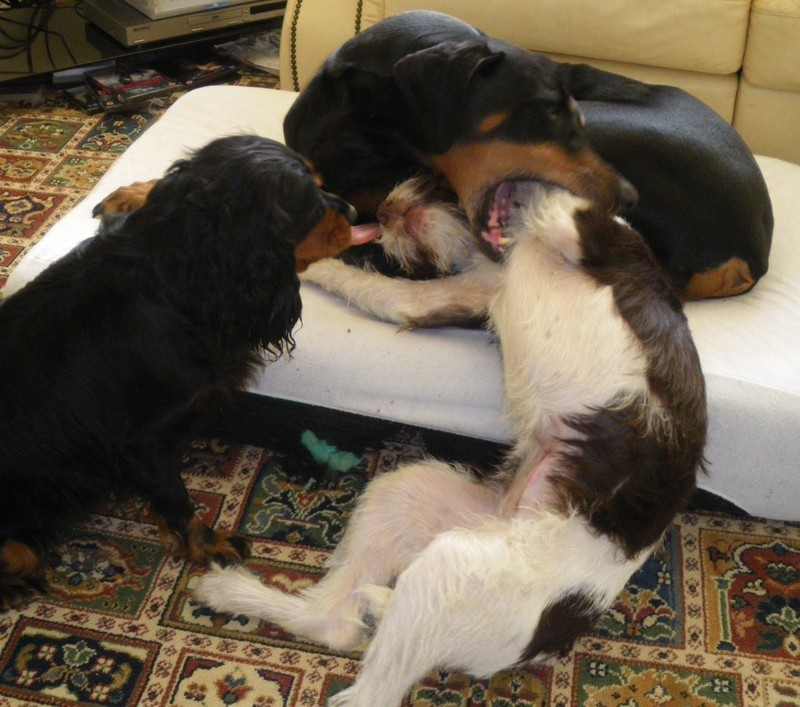 Scooby is not very well at the moment, she was awfully sick yesterday afternoon & evening following her visit to the vets to have her tummy staples removed. She's more alert today, but was sick this morning, don't know whether the visit back to the vet upset her or not. She enjoyed her walk up the forest this morning, quieter than usual though, however this is one highly energetic dog so her behaviour would pass as normal for another dog. It's all a bit strange, I would be really concerned if there was no improvement in her from last night, I will see how she is later, sleeping fast at the moment.
*16/03/11
I was looking everywhere for Dot this morning, did not think to check where the dogs were sleeping. We are spending another day cooped up in the living room.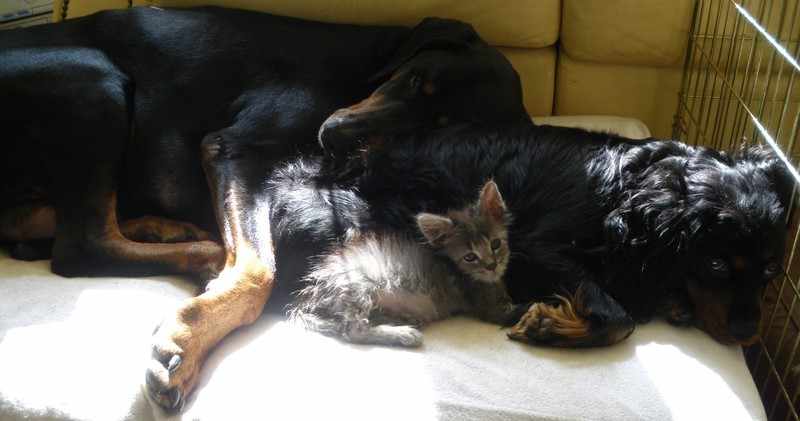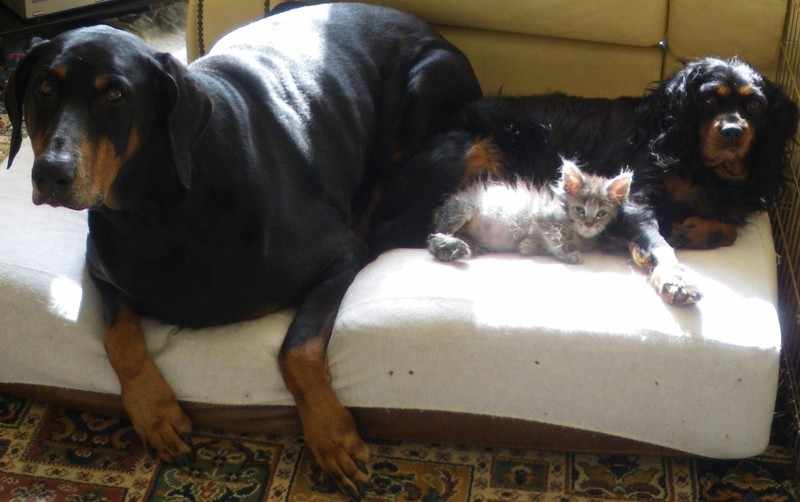 *01/04/11*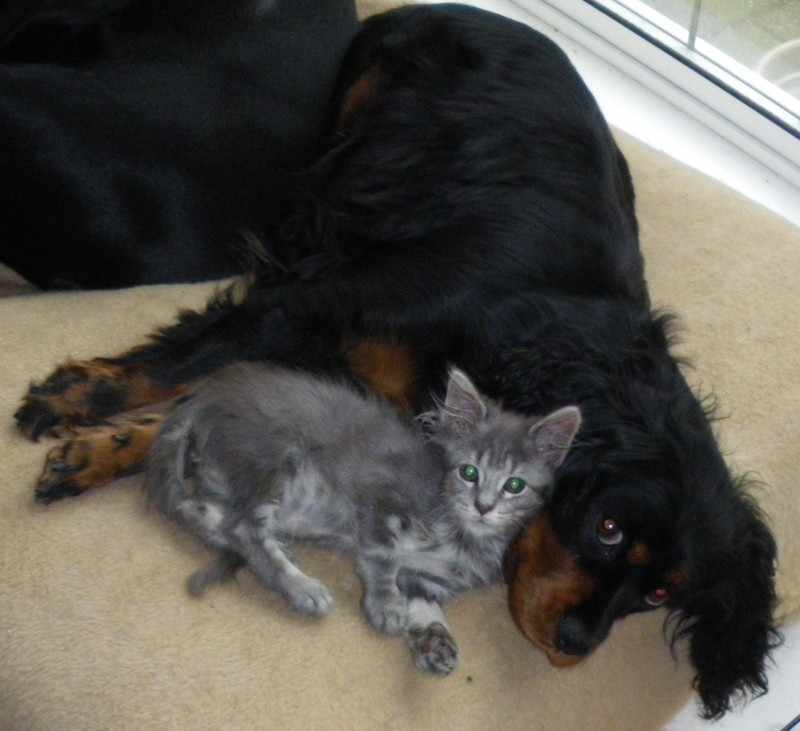 *23/04/11*
The latest *News* on Dot.
We discontinued the lactlose a while back, Dot continued to thrive. Two weeks ago Dot moved in with some of my younger adults. They gave her a hard time, however she stood her ground. I was really concerned how she was going to cope with the heights, scratching posts etc with her little front bandy legs. Dot's front legs were so bandy she got around mostly as if she was walking on her ankles. I was concerned for Dot's future, surely as she grew this would cause future problems, probably pain/discomfort.
Moving in with the big girls, standing her ground and away from all the mollycodling she got from me, Dot has grown from strength to strength. Initially she lost a bit of weight however, the great news, Dot's walking upright, her front legs are straightening out, this is just what she needed to get away from me, to live as a proper cat not protected and wrapped up in cotton wool anymore. The competing for food, using the scratch posts, jumping dare I say from the kitchen work tops onto the floor (I would never let Dot jump anywhere), it's all been the making of her, Dot's a little fighter, a surviver, I now feel confident Dot is going to go on to live a normal, healthy cat life. Dot can hopefully go on to live in any type of household, with Dogs, cats, whatever. New photos soon.
*30/04/11*
Dot doing her balance act.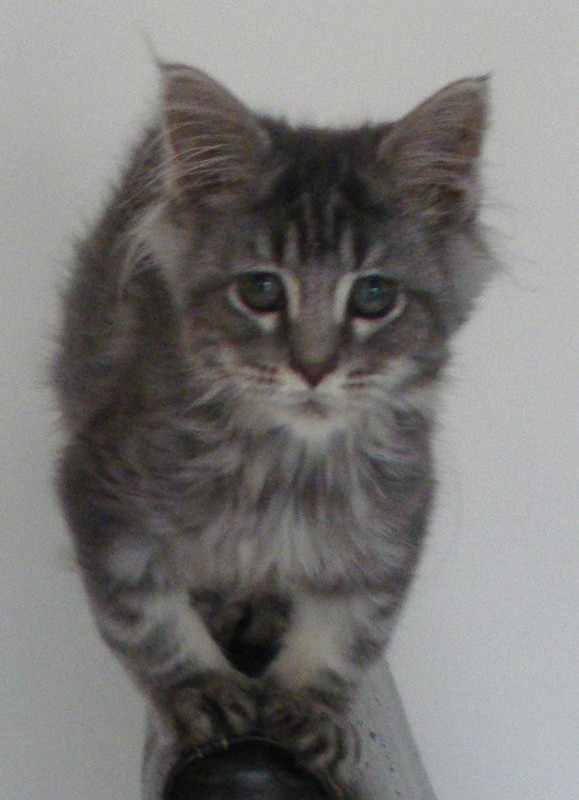 Dot concerned the back door is open, you can see the worry in her little eyes.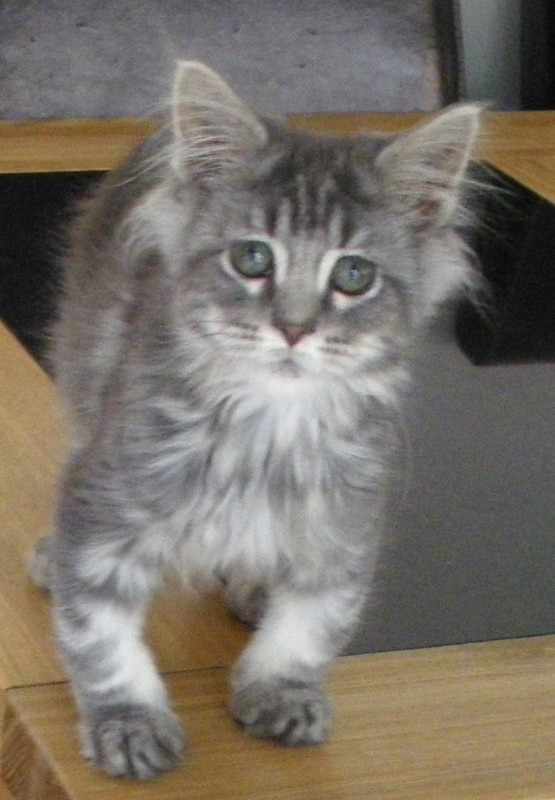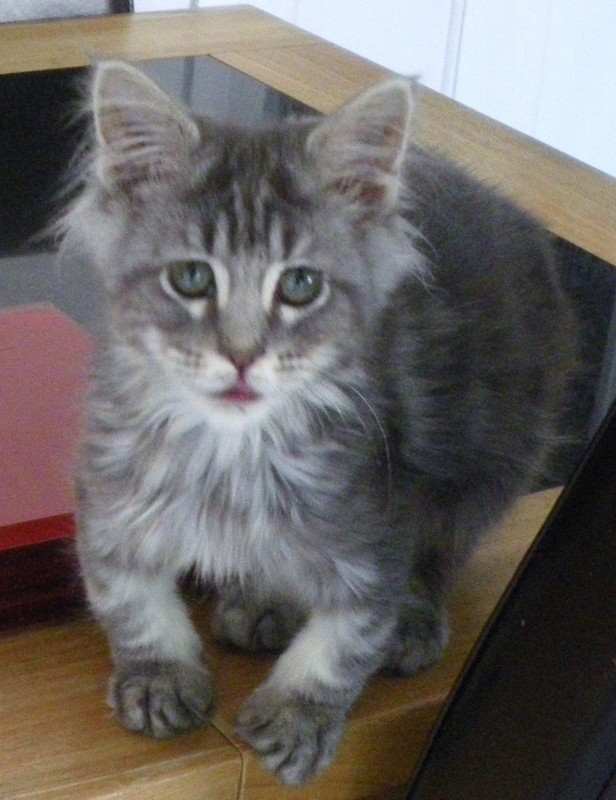 Dot's journey is just about to begin.
Dot has found herself a lovely new home with 2 new slaves to wait on her day and night. Dot is going to join Steve & Sandra at their lovely cat mad home. Dot will have access straight from the house into a lovely big secure garden run, Steve is busy this very moment putting up ramps everywhere so Dot does not have to jump. These new slaves are going to be on tender hooks for the 1st few weeks, I can just imagine it "quick, catch her, she's going to jump". Don't worry new slaves, Dot will be fine, she's a survivor. Can't believe it myself when I look back, so tiny and frail yet never a sickly kitten. So lucky everyone here is healthy, things could have turned out so differently for Dot, life threatening, had they not been. My Doberman (Brutus) is hiding up stairs at the moment from the dish washer, he does not like the beeping when it starts and finishes. New photo soon.
18/05/11
Dot & Beryl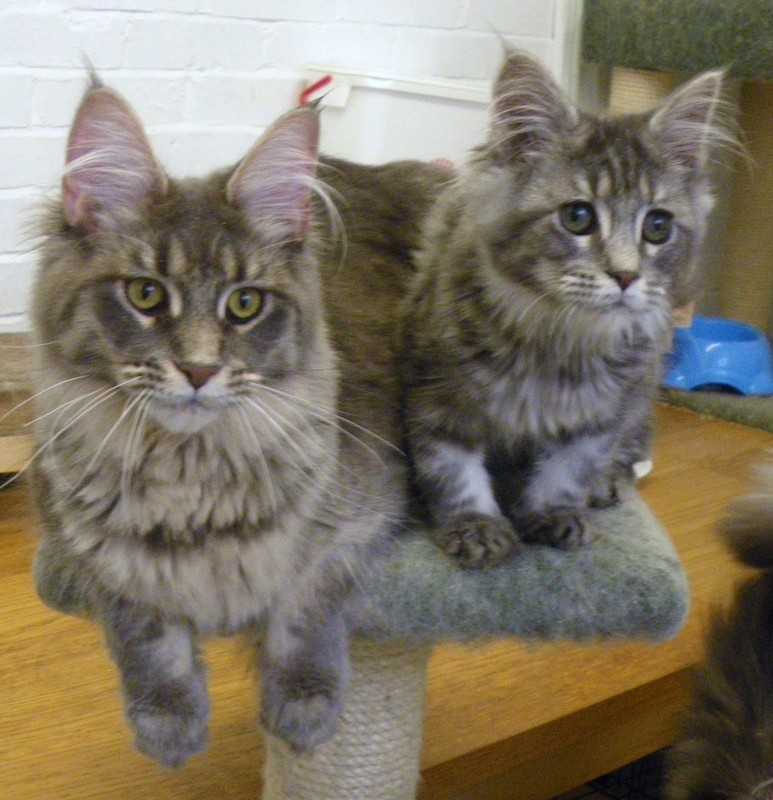 *27/05/11*
Dot moved on to her new home yesterday.
Steve and Sandra arrived to take Dot home with them yesterday. Steve informed me that evening, Dot had already tucked in to a plate of cod, (she's never going to want to come back following this menu), Dot had also made her way to the top of the scratching post, outside into the cat run and has put Raggles in his place (photo of Raggles below). We have a photo of Dot below investigating the outside decking of the cat run, photo's a bit disapointing, hopefully Steve's camera skills will improve over the next couple of days when we hear more of Dot's adventure.
Sueragdandy Raggles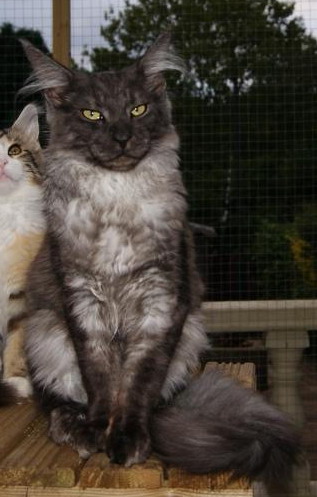 *06/ 06/11*
Dot is enjoying life to the full at her new home, she's a very busy little girl racing around everywhere, filling her belly, and best of all receiving lots of love and cuddles.
Dot begging for her dinner.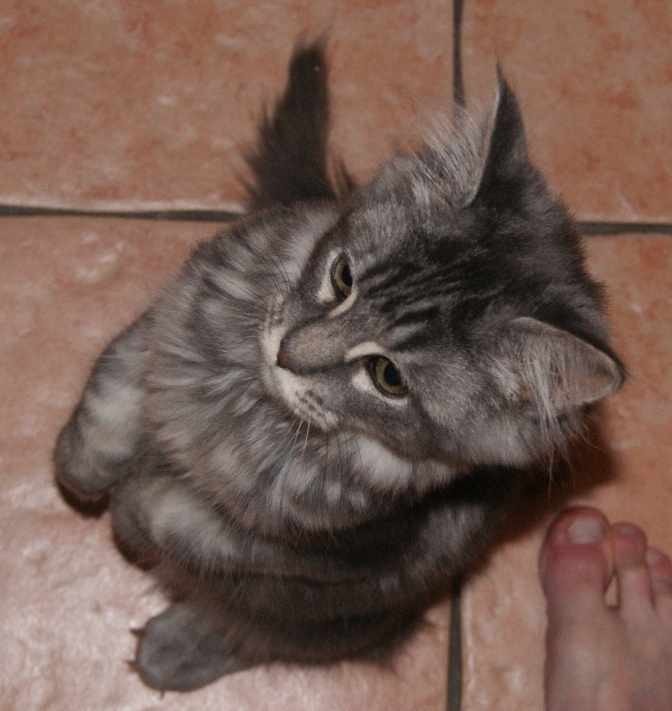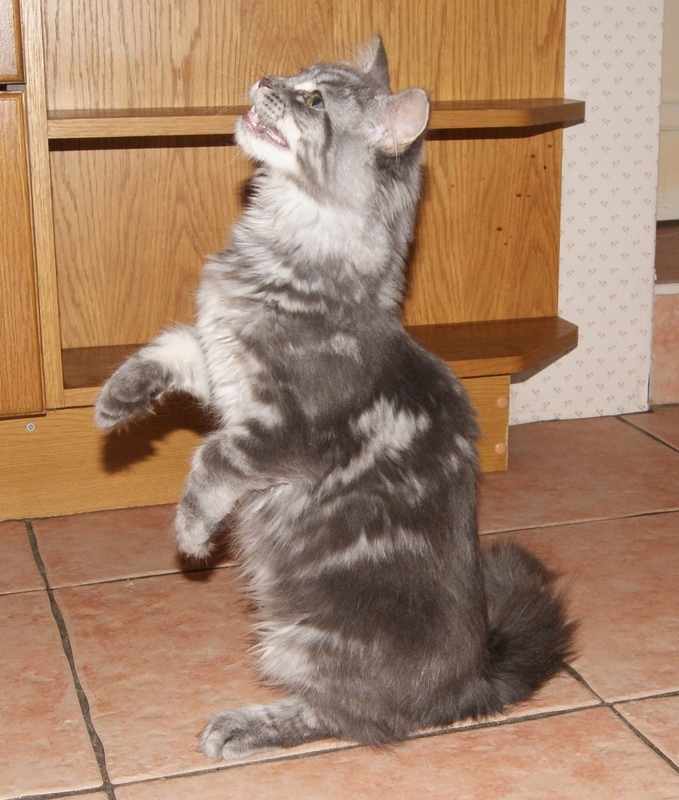 *16/06/11*
Steve & Sandra took Dot to the vets yesterday for her 1st vaccination. The vet said she was a healthy strong little girl and should continue to go from strength to strength, the receptionist's thought she was the prettiest kitten they had ever seen. Dot is one very loved, spoilt little girl, she is so lucky Steve & Sandra decided to take her on, Sandra said she could not now imagine being without her. I have been informed she is a little tearway in disguise, nothing is too much for her, she is like a little pocket rocket, does everything a hundred miles an hour, getting stronger and more cheeky by the day. When I first started this journey with Little Dot, I could not imagine this tiny, frail little kitten coming so far, moving on to a wonderful Maine Coon crazy family. I have known many Little Dot's during my breeding years, so have many other caring breeder's who fight to keep these tiny little mites alive, sadly there is not often a happy ending.
*16/10/11*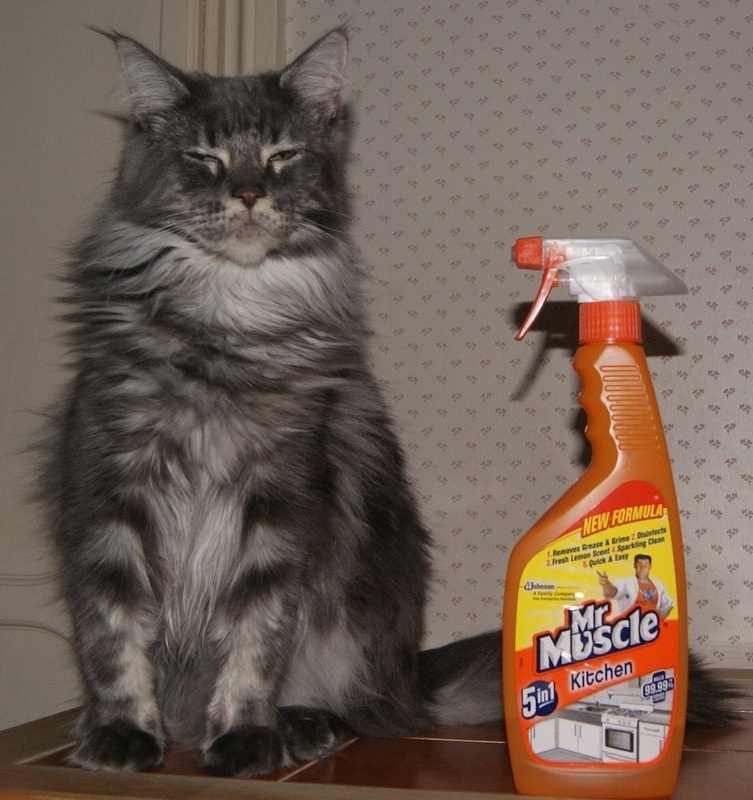 Steve sent me this photo of Dot, it shows just how much she has grown compared with the earlier photos of her under the kitchen sink. Dot has turned into a wonderful big girl, however she is very wicked, scrapping (play fighting) is her favourite passtime, and look how lovely and straight her legs are.